ExTra: The Expenses Tracker
Submitting Expenses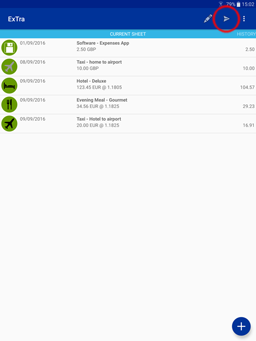 Once an expense sheet is complete, press the paper plane icon send to convert the expenses into a spreadsheet and send it in. You can choose the format of the spreadsheet, the email address of the recipient and whether or not to include images of the receipts in Settings.
Note that ExTra does not directly send emails. It will compose an email for you with all the attachments and the recipient and subject filled in. You can then add any text to the email before sending it. If you have more than one email app on your device, then you will be prompted for which one to use.
Once an expense sheet has been submitted it is locked against future editing. You will be asked to confirm that you wish to edit a locked sheet. Locked sheets are shown with a locked padlock symbol on the History tab.
Contents
Previous: Selecting Currencies
Next: Settings
X

<

>